IMPORTANT INFORMATION ABOUT REGISTRATION
Enrolment is open to all high school students living in Manitoba and registered in a Manitoba high school. This includes students in both the public school and funded independent school systems, home schoolers registered with Manitoba Education and adult learners.
Homeschoolers must ensure the appropriate documentation is completed and processed with the Manitoba Homeschool Office.( https://www.edu.gov.mb.ca/k12/schools/ind/homeschool/docs/student_notification_form.pdf) This stamped, processed documentation or a confirmation letter from the MB Homeschool Office, is needed to complete and process the registration.*** Students taking 6 or more classes with InformNet are considered full time and are no longer required to report to the Manitoba Homeschool Office.***
Students must have a Manitoba Education and Training number (MET#). This is a 9-digit number that is given to each student attending school in Manitoba. It is found on a transcript or report card. It is sometimes called a provincial student number. Example: 103 ### 098.

There is a course fee - $350 each.

Students are registered on first-come-first-served basis through the online registration application (https://www.informnet.mb.ca/registration.html).

Classes have a maximum of 40 students.

Course are semestered and have a start and completion date. Semester 1 runs from September to January and Semester 2 runs from February to June.
Students choose a learning option:
Blended Learning Option: This student-directed option is our most popular option and offers students the most control in their learning. Students work through Brightspace learning modules, submit the module assignments, and finally complete the specified online tests. All work is marked within 24 hours by the course teacher. If students need concept clarification, they contact the course teacher through Classlist emails. Full time InformNet teachers offer virtual classroom (synchronous learning) options in Brightspace to focus students before assessments, for remedial instruction, to supplement content, direct problem solving, individual meetings, parent-teacher conferences and finally to build community. These virtual meetings are recorded and sometimes embedded back into the course when applicable. The blended model offers students more options as they still attend their day school and take InformNet classes on top of their regular course schedule. It allows student to catch up on missed credits and work ahead.

Synchronous Learning Option: These courses are only available to students who are NOT in a day school. (Not available in summer session.) Students will receive daily teacher lead - whole class instruction at a specified time. Supplementary and support content is given through Brightspace learning modules. Course assignments and tests will be given with specific due dates required. Grade 9 and 10 level - required courses for graduation only. Students need to ensure they use their computer microphone and camera while in synchronous classes.

Online learning is not for everyone. It is an opportunity given to students who cannot get into a course offered at their school, need a credit required for graduation or would like to try a course not offered at their home school. The guidance counselor and school administration have the right to limit access to online courses if there are relevant academic issues associated with the student that would hinder the progress in an online environment.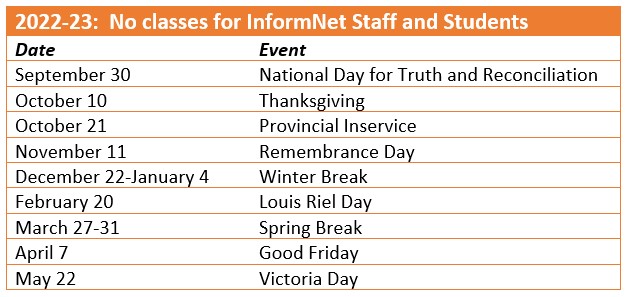 STAFF CONTACTS: 2022-23
Student/teacher correspondence should be within the Classlist link inside of Brightspace.
| | |
| --- | --- |
| Last name, First name | Email |
| Boyce, Joel – Science | |
| Carson, Lorne – Math and Science | |
| Davidson, James - English | |
| Cliteur, Kristina - Math | |
| Dunwoody, Suzanne – Humanities/Math | |
| Hartley, Allison - English, Psychology | |
| Hayward, Brian – Science/Math | |
| Drysdale, Stephanie – Life/Works 20S, Family Studies 40S | |
| Kopetsky, Lauree - Current Topics in First Nations, Métis, and Inuit Studies | |
| Lethbridge, Cathy - Computer Science | |
| Mackenzie, Taylor - Physical Education | |
| McCorquodale‐Bauer, Matthew -History, English, Geography, Social Studies | |
| Peters, Karlen (JTC) – Global Issues, History (Sem 2) | |
| Nemetchek, Joanne (WWC) - Math | |
| Shepherd, Tara (JTC) - Biology | |
| MacWilliam, Mike (CSHC) – English (Sem 2) | |
| Smith, Kaitlin - Math | |
| Matyi, Elizabeth – VP: French Immersion | |
| Vincent, Eric (CSHC) - Physiques, Sciences de la nature 20SX (Sem 1) | |
| Wong, Sarah (CHSC) - Mathématiques au quotidien. Introduction aux mathématiques appliquées et pré-calcul 20SX | |
| Metcalf, Tyler (CSHC) - Éducation physique et Éducation à la santé | |
| Tarrant, Tom ‐ Principal, Psychology, Digital Pictures, 2D Animation, Visual Art | |
| Leeman, Mark ‐ Vice-Principal, Physics, Math | |
| Hooper, Cerys - InformNet Administrative Assistant | |
SCHOOL YEAR MONTHLY PROGRESS REPORTS
Student progress reports are snapshots of log in behaviour, assignment and assessment updates as well as general themes addressing student work and credit success. The reports also give the student's current mark in the course. Progress reports are sent to both the student and parent/guardian email addresses.

HOW ARE INFORMNET STUDENTS EVALUATED?
InformNet is an online learning experience. In most ways students are evaluated using the same procedures as the regular program. This includes traditional methods such as tests and projects. Evaluation is also based on formal learning demonstrations. Tests and projects are sent via the Brightspace or through email. Exams are online and have been created to dissuade cheating through question randomization, timed duration that forces completion, as well as multimedia features for specific content questioning. Provincial testing and standards exams are written as per the regulations of Manitoba Education and Training and are written at the student's home-school with the other students
REGISTRATION REFUNDS SUMMARY
Summary School Year:
Up to 3 weeks – full refund, $20 administration fee added
After 1 Month – ½ the fee is refunded
After 2 Months - No Refund
Summer School:
After 1 Week – full refund, $20 administration fee added
After 2 Weeks - No Refund