InformNet FAQs?
InformNet Virtual Tour
THE INFORMNET EDUCATION TEAM: 2023-24
WHERE AND WHEN CAN I REGISTER FOR CLASSES?
Enrolment is open to all high school students registered in a Manitoba high school. This includes students in both the public school and funded independent school systems, home schoolers registered with Manitoba Education and adult learners.
Students are registered on first-come-first-served basis through the InformNet website (https://www.informnet.mb.ca/registration.html).
Homeschoolers must ensure the appropriate documentation is completed and processed with the Manitoba Homeschool Office.(https://www.edu.gov.mb.ca/k12/schools/ind/homeschool/docs/student_notification_form.pdf ) This stamped, processed documentation or a confirmation letter from the MB Homeschool Office, is needed to complete and process the registration.*** Students taking 6 or more classes with InformNet are considered full time and are no longer required to report to the Manitoba Homeschool Office.***

Classes have a maximum of 40 students.
Online learning is not for everyone. It is an opportunity given to students who cannot get into a course offered at their school, need a credit required for graduation or would like to try a course not offered at their home school. The guidance counselor and school administration have the right to limit access to online courses if there are relevant academic issues associated with the student that would hinder the progress in an online environment.
HOW MUCH DOES IT COST?
For students registered at a funded MB high school, the subsidized fee for each course: $350

Per course fee for adult learners: $450




WHAT IS A "MET#" AND A "DAY" SCHOOL?
Students must have a Manitoba Education and Training number (MET#)
Students register online at www.informnet.mb.ca and click the registration link at the top of the page. Students will need to know their Manitoba Education and Training student Number (MET#) to register for an InformNet course. This is a 9-digit number that is given to each student attending school in Manitoba. It is found on a transcript or report card. It is sometimes called a provincial student number. Example: 103 ### 098.
A "DAY" school refers to the actual bricks and mortar school a child is registered with and has a schedule of existing classes during the school year. InformNet's synchronous learning option is for students with out a day school as students are not taking instruction within a school building.
WHAT HAPPENS AFTER I HAVE REGISTERED FOR CLASSES?
A few days before classes start, InformNet emails student log on information (username and password) along with support documentation.
HOW DOES THE ONLINE CLASS WORK?
Courses are semestered and have a start and completion date. Semester 1 runs from September to January and Semester 2 runs from February to June.
Asynchronous Learning Option: This student-directed option is our most popular option and offers students the most control in their learning. Students work through Brightspace learning modules, submit the module assignments, and finally complete the specified online tests. All work is marked within 24 hours by the course teacher. If students need concept clarification, they contact the course teacher through Classlist emails. Full time InformNet teachers offer virtual classroom support in Brightspace to focus students before assessments, for remedial instruction, to supplement content, direct problem solving, individual meetings, parent-teacher conferences and finally to build community. These virtual meetings are recorded and sometimes embedded back into the course when applicable. The blended model offers students more options as they still attend their day school and take InformNet classes on top of their regular course schedule. It allows student to catch up on missed credits and work ahead.
Synchronous Learning Option: These courses are only available to students who are NOT in a day school. Students will receive daily teacher lead - whole class instruction at a specified time. Supplementary and support content is given through Brightspace learning modules. Course assignments and tests will be given with specific due dates required. Grade 9 and 10 level - required courses for graduation only. • Students need to ensure they use their computer microphone and camera while in synchronous classes.
All online courses are facilitated by a certified teacher with experience in the subject area. Students have access to their courses, 24 hours a day, seven days a week. The Brightspace learning management system contains an internal message and announcement system for teacher - student communication. Assignments and tests are marked and returned within a timely manner.
TO BE SUCCESSFUL:
Log in right away and ensure you click into each of the classes you have selected. Login daily and often.
Check the announcements in your course home page.
Check your Messages - Look for the orange dot. Click the icon that has the orange dot and respond to the questions or comments.
Click on the Content link in the menu bar and select the Learning Module you are working on. Work through the material like an electronic textbook. You may be directed to complete an assignment that goes along with the learning module.
All assignments are listed in the Assignments link.
At the end of a module complete the corresponding test under the Quizzes link.
Ask questions -contact your teacher in the Classlist link.

Go to the class list link on the top menu and Click the Teacher Tab
Click the box in front of tour teacher's name
Click on the down arrow beside the teacher name and select "Send Email"
The Compose New Message window appears. Complete your email, add attachments if necessary and hit the send button in the top left of the window.
DO I HAVE TO LOG IN EVERYDAY?
In order to be successful, students need to log in consistently and daily - at least an hour a day per class.
ATTENDANCE POLICY:
Parents and students receive email notification when a student has not logged in or completed any work for 10 days
A removal warning notification is sent out to parents, students and the home-school when a student has not logged in or completed any work for 20 days.
Course removal notification is sent out to parents, students and the home-school when a student has not logged in or completed any meaningful work for 30 consecutive days.
Synchronous Option
Parent/guardian to email their child's InformNet teacher if the student will be or is away.
Three (3) unexcused absences in a row - InformNet Administrator will contact the parent/student.
Four (4) unexcused absences in a row - InformNet Administrator will contact the parent/student.

Discussion about switching out of the synchronous option to the blended class.

Eight (8) unexcused absences - student may be moved to the blended model.
Ten (10) unexcused absences - student will be moved to the blended model or removed from the course.
DO I NEED AN EMAIL ACCOUNT?
Yes, students need an active and frequently checked email account to receive information on how to begin the course and final grade correspondence.
WHAT DO I NEED ON MY COMPUTER?
CAN I USE MY PHONE TO COMPLETE THE COURSE?
Ideally students should use a computer/laptop to complete the course due to the larger screen size and better processing power. If needed, there is an app called Brightspace Pulse for Android and iPhone.
DOES INFORMNET HAVE A POLICY ON ACADEMIC HONESTY?
Students are expected to read and follow InformNet's Academic Honesty Policy. (https://www.informnet.mb.ca/academichonesty.html)
Academic integrity is a concept used to address the many aspects of validity within a student's work.
A student who maintains a high standard of academic integrity maintains that the work he or she turns in is authentic and true to the knowledge he or she has acquired.
InformNet is committed to ensuring the integrity and validity of student achievement within its courses by promoting academic honesty.
Students are responsible for upholding integrity and will be held accountable for the quality of their work and actions. Read more.
PROVINCIAL EXAMS
Grade 12 students are required to write their provincial exams at their day school. These exams contribute 20% to their overall course grade. At the beginning of the semester, the day school administrators receive a list of students enrolled in the following English and French Immersion grade 12 courses: Math 40S Applied, Math 40S PreCal, Math 40S Essential, English 40S Comprehensive Focus, English 40S Literary Focus, and English 40S Transactional Focus, Français 40SX, Mathématiques au quotidien 40SX, Mathématiques pré-calcul 40SX . This helps ensure that students are signed up for the right exams. The day school administrator registers students for the provincial exams. After a student completes a provincial exam, the day school adjusts their final grade based on their performance. Students will receive information about when and where these exams will take place.
The final grades given by InformNet are out of 100 marks. Day school administrators receive both the current percentage a student has in the course and the corresponding score out of 80. Full-time grade 12 InformNet students are registered to take provincial exams through our school.
REGISTRATION REFUND SUMMARY
Summary School Year:
Up to 1 month – full refund, $20 administration fee added
Up to 2 Months – ½ the fee is refunded, $20 administration fee added
After 2 Months - No Refund
Summer School:
After 1 Week – full refund, $20 administration fee added
After 2 Weeks - No Refund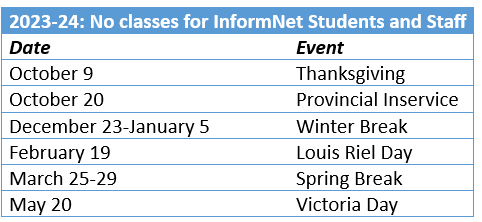 Teacher Contact List 2023-24
Boyce, Joel - Physics and Science 20F - joel.boyce@sjasd.ca
Carson, Lorne - Biology, Law, Accounting - lorne.carson@sjasd.ca
Davidson, James - English - james.davidson@sjasd.ca
Cliteur, Kristina - Math - kristina.cliteur@sjasd.ca
Dunwoody, Suzanne - French Immersion Humanities/Math - suzanne.dunwoody@sjasd.ca
Weber, Susanne - Math – susanne.weber@sjasd.ca
Hartley, Allison - English, Psychology, Visual Art, Digital Pictures - allison.hartley@sjasd.ca
Hayward, Brian - Chemistry, Science 10F - brian.hayward@sjasd.ca
Drysdale, Stephanie - Life/Works, Family Studies, Geography, 2D Animation, Global Issues - stephanie.drysdale@sjasd.ca
Lethbridge, Cathy - Computer Science - cathy.lethbridge@sjasd.ca
Mackenzie, Taylor - Physical Education - taylor.mackenzie@sjasd.ca
McCorquodale-Bauer, Matthew - History, English, Social Studies, Current Topics in First Nations, Métis, and Inuit Studies - matthew.mccorquodalebauer@sjasd.ca
Smith, Kaitlin – Math - kaitlin.smith@sjasd.ca
Matyi, Elizabeth - French Immersion Biologie, sciences de la nature 20SX - elizabeth.matyi@sjasd.ca
Wong, Sarah - French Immersion Math - sarah.wong@sjasd.ca
Metcalf, Tyler (CSHC) - Éducation physique et Éducation à la santé - tyler.metcalf@sjasd.ca
Lécuyer, Nicole (CSHC) – Psychologie, Français - nicole.lecuyer@sjasd.ca
Hooper, Cerys - InformNet Administrative Assistant - cerys.hooper@sjasd.ca
Leeman, Mark - Vice-Principal, - mark.leeman@sjasd.ca
Tarrant, Tom - Principal - tom.tarrant@sjasd.ca
InformNet Instagram
(https://www.instagram.com/p/CFZwJI6sBEP/?utm_source=ig_web_copy_link)