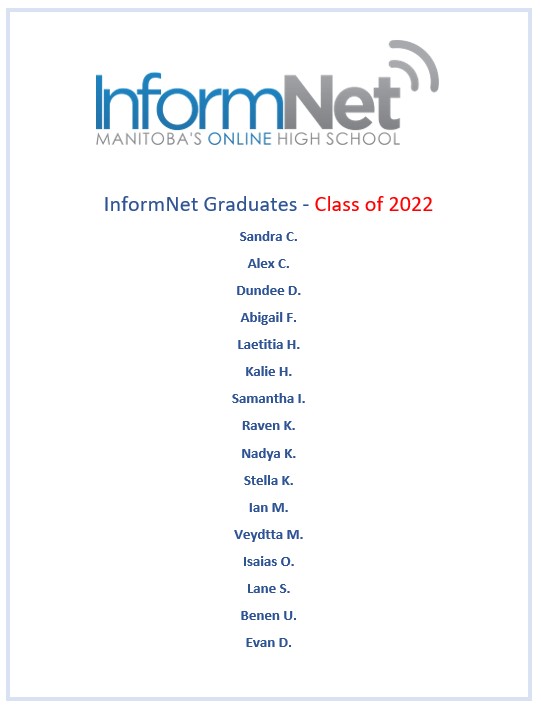 Graduation Requirements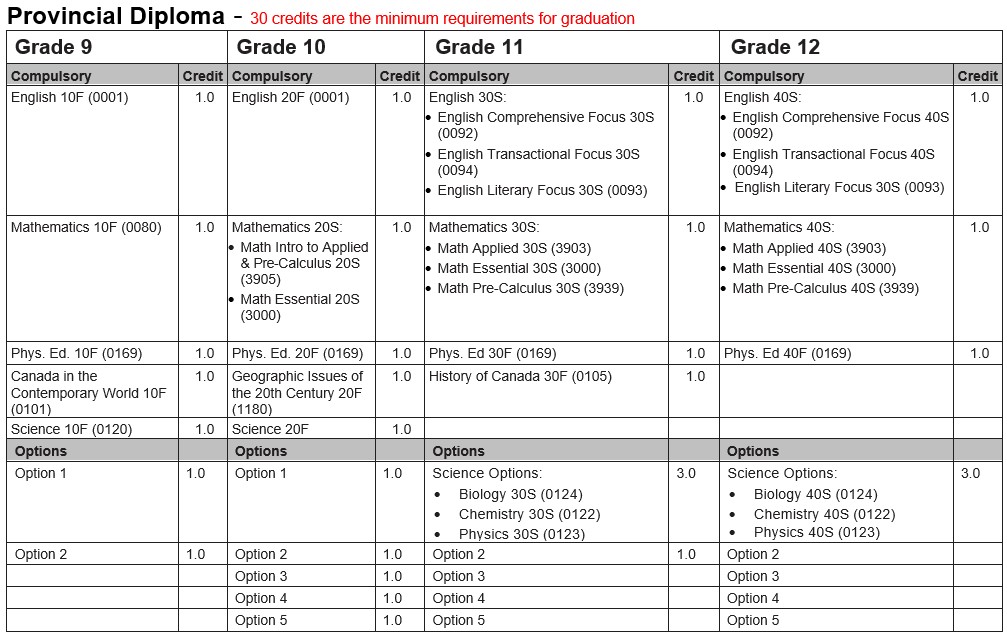 Click HERE for a course list for option choices.
Please look through the InformNet course handbook for subject information and graduation planning.
Mature Student Graduation Requirements
Note: There is a per course fee per course for mature students wishing to take an online course(s).
A "mature student" eligible for obtaining a Mature Student Diploma under the Senior High School Graduation Requirements is one who:
Is 19 years of age or over at the time of enrollment, or will reach the age of 19 before completion of the course.
Has been out of school a full year or more, and out of school long enough that their class has graduated.
Has not obtained a high school diploma.
Students can enroll for the purpose of obtaining the Mature Student High School Diploma if they are eligible as described above.
Programming

Mature Student Graduation Requirements consists of 8 credits.
Enrollment can be part-time or full-time.
Students must ensure that the requirements for post-secondary education are met. School divisions/districts support students in learning about post-secondary requirements.
Compulsory core credits can be transferred toward completion of Mature Student Graduation Requirements.
G (General), F (Foundation), S (Specialization), A (Advanced), M (Modified), E (English as a second language) are excepted for Mature Students Graduation Requirements.
Provincial Exams or standard tests are required in compulsory subject areas.
A Mature Student cannot obtain Mature Student retroactive standing. Your Mature Student High School Diploma cannot be claimed solely on the courses you have previously completed. At least one credit must be completed while the student is enrolled as a Mature Student with the Graduation Requirements.
School divisions/districts cannot set the requirements for obtaining a Mature Student High School Diploma other than those set by Manitoba Education and Training.

Credit Requirements



Here is the booking link to share with students: (https://booknow.appointment-plus.com/1dql19q6/?e_id=5871)
LifeTouch has a standard sitting fee cost of $25 for each grad picture session.